Everything You Need To Manage Your Rentals
The only all-inclusive landlord-tenant app with everything you need to manage your rentals, receive payments, screen applicants, manage maintenance requests, and list properties.
Rent Collection
Easy mobile and online rent collection without any hidden fees!
Add payment accounts to each property to start collecting & tracking rent—create as many accounts as needed, no extra charges!
Landlords receive funds from tenants in as quick as 4 – 5 business days after initial payment account approval
Export rent payments directly to spreadsheets, Quickbooks Online
Offer a variety of payment options including ACH, banking, credit card, and cash
Tenant Screening
Identify high-quality tenants, quickly!
Certified TransUnion Reports Full credit, criminal & eviction reports
Included background checks
Tenants pay $39.99 per application
Applications
Get the right tenants into your property.
With prequalification questions, quickly identify whether or not an applicant meets your criteria before you schedule a tour
Invite prospective tenants to apply for your property from the landlord dashboard
At-a-glance view of pending, accepted, and rejected applications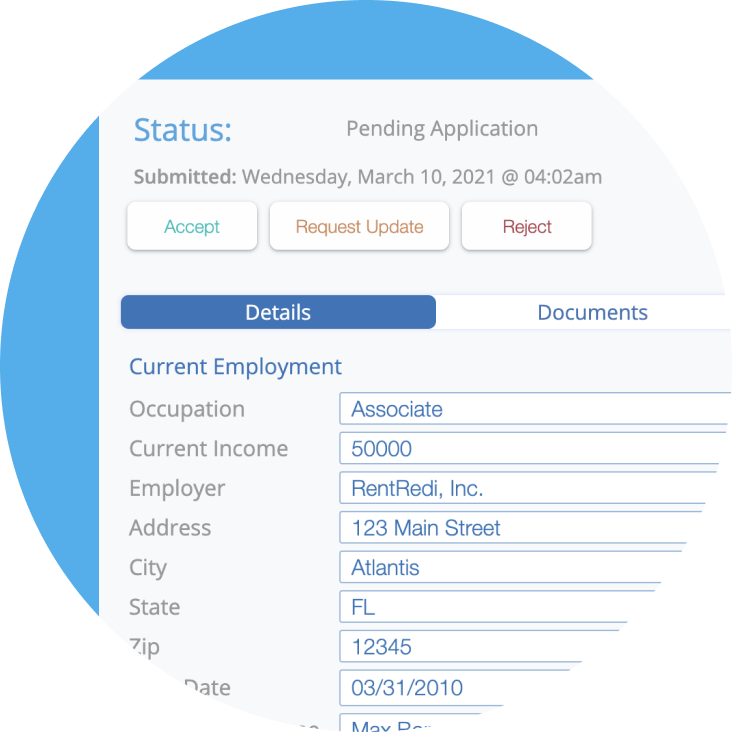 Maintenance Requests & Coordination
Processes to keep you organized!
Tenant maintenance request form includes optional 5-second video of issue
Automatic maintenance status updates sent to tenant
Add-on Premium Maintenance services outsource maintenance requests while still keeping you in charge & informed
Listings & Marketing
Reduce vacancy and turnover time.
Listings to Zillow and Realtor.com from the RentRedi dashboard
Add virtual tour options to each listing to schedule tours based on your comfortability
Professionally designed, free marketing page to share listing to sites like Facebook Marketplace, Craigslist, your website, and more!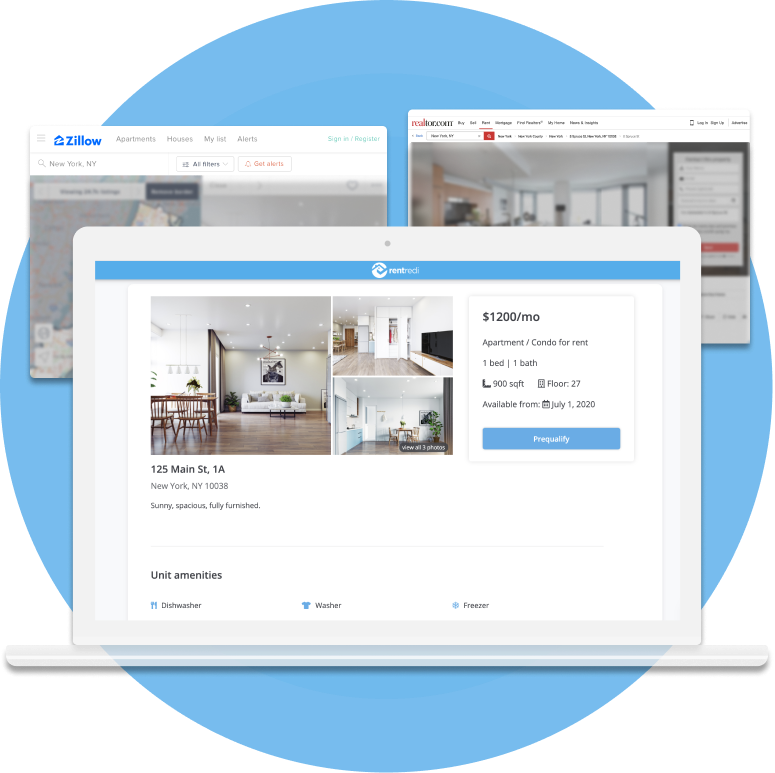 Tenants & Team Communications
Streamline communications with free teammate accounts & tenant push notifications.
In-app push notifications to tenants let you easily send rent reminders, building updates, and maintenance notifications
Give your team access to the same tools you use, at no additional cost per seat
Need advice or help, our 5-star customer support team is here to help you!
Add-On Accounting
Get landlord accounting software for rental property owners & real estate investors.
Automatically sync your RentRedi properties & view your numbers by property or unit
Import recent transaction data & create matching transaction rules for easy bookkeeping
Access to preset rental transaction templates
Get full financial reports (P&L, cash flow, balance sheet), as well as tax ready IRS Schedule E reports
What Else Can You Do On RentRedi?
We're here to make renting easy, for both the renter & landlord.
Get Started With RentRedi
Create the best renting experience for you and your tenants.