RENTREDI AND REALTOR.COM PARTNER TO OFFER LANDLORDS MORE LISTING OPTIONS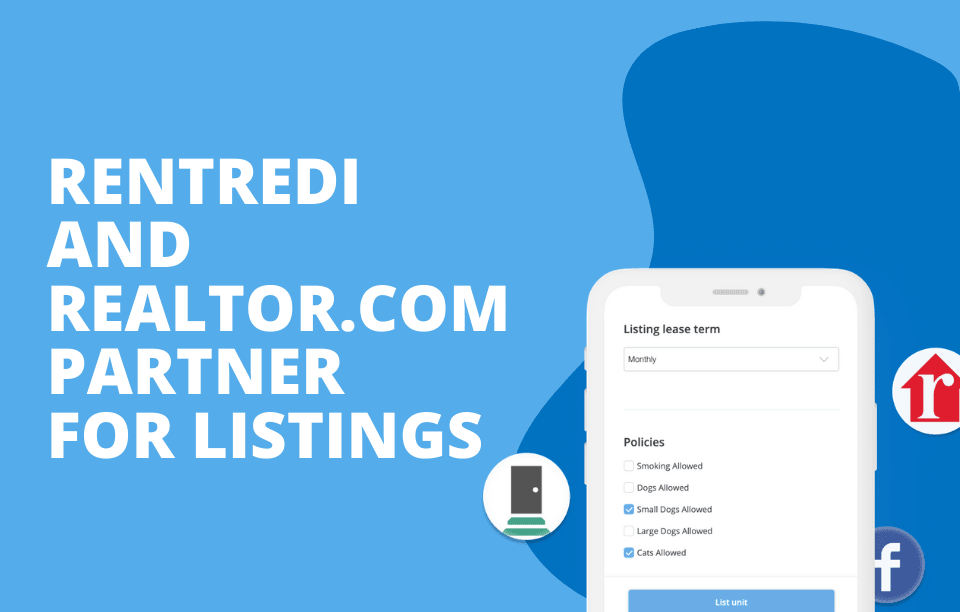 PropTech Startup Partners With Notable Real Estate Networks To Provide Landlords With Extensive Listing Options
New York, NY (July 6, 2020) – RentRedi, a landlord-tenant software dedicated to creating the most comprehensive platform for landlords, secured another strategic partnership for its users: Realtor.com.
This latest partnership comes at a critical juncture in the residential real estate market amid landlord concerns about the economic impact of the coronavirus. Not only are small landlords looking to cut costs from all corners, but they are also seeking more listing options and additional platforms to help get their listings filled faster.
To combat this issue, RentRedi has partnered with Realtor.com and created its own free listings page, to enable landlords to share vacancy listings to more platforms.
RentRedi CEO Ryan Barone said that the partnership is an exciting opportunity for his company, who strives to tackle major pain points landlords face head-on with their landlord-tenant apps and dashboard.
"Right now, we ask landlords, 'What are the major challenges you feel are holding back your rental business?' and listing units is always a top priority for them. For us, adding this partnership with Realtor.Com means that we can offer landlords more options when it comes to the issue of listing units."
When a property listing is created in RentRedi, it will automatically be syndicated to Realtor.com. From the listing, applicants will be able to prequalify or apply through RentRedi. Landlords will see an applicant's employment, income, rental history, and can also run background checks and credit reports.
The goal, Barone says, is to help landlords list units faster so they can get filled faster. "Tenant turnover can be a financial drain. We want to help landlords every step of the way get that unit filled: from listing to prequalifying to applying to screening to lease signing."
ABOUT RENTREDI AND REALTOR.COM
Realtor.com
For years, millions of home shoppers have turned to Realtor.com® to find their dream home. Operated by Move, Inc., Realtor.com® offers a comprehensive list of for-sale properties, as well as the information and tools to make informed real estate decisions. Today, more than ever, Realtor.com® is The Home of Home Search℠. (Realtor.com)
RentRedi
RentRedi is landlord-tenant software that empowers landlords to easily manage their properties themselves and make stress-free renting affordable and accessible to everyone. For landlords, RentRedi provides an all-in-one dashboard that enables them to list properties, prequalify and screen potential tenants, collect and automatically track rent, receive next-business-day payments, communicate with tenants, and manage maintenance with video. It has partnered with platforms including TransUnion, Realtor.com, and TSYS to create the best experience possible. For tenants, RentRedi's mobile app allows them to prequalify, apply, pay rent, and submit maintenance requests with a video of the issue, all from the palm of their hand.