RentRedi Introduces Auto-Tenant Screening Feature For Landlords And Tenants To Reduce Application Process Obstacles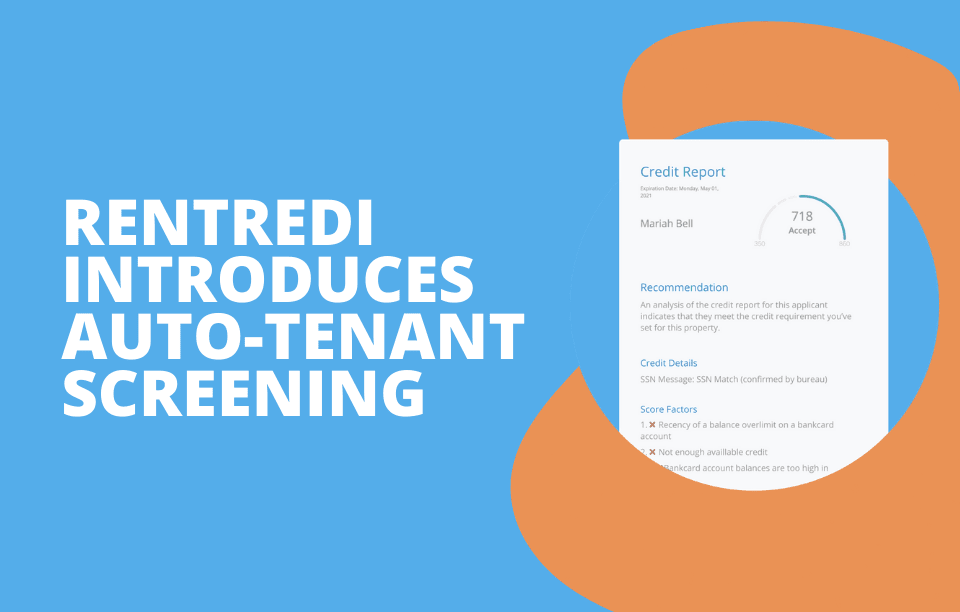 Landlord-tenant software RentRedi releases auto-tenant screening feature to eliminate hurdles renters and landlords face in the rental application and screening process.
New York, NY (January 29, 2020) – RentRedi, the real estate technology startup making stress-free renting affordable and accessible to everyone, announced the release of its auto-tenant screening feature, delivering a smoother user experience that saves time for both landlords and prospective tenants when applying to available rentals. Landlords who activate auto-tenant screening on the RentRedi platform enable applicants to pay and submit their tenant screening, simultaneously with their application, directly to the landlord.
Instead of having to request and wait for a tenant to complete a two-step process, landlords can enable auto-tenant screening for their properties which permits tenants to send a TransUnion screening with their completed application. Instantly, landlords can review not only the tenant's application, but also full credit, criminal, and eviction reports directly from their RentRedi dashboard.
When he started RentRedi in 2016, CEO and Co-Founder Ryan Barone made it his mission to ensure each landlord on the platform felt their voice was heard:
"We listen to the problems of our landlords and build solutions into our application. Our technology is driven by customer feedback—it's our priority. Every feature we build has one objective: to make the lives of landlords and tenants easier."
These features— like auto-tenant screening—endeavor to eliminate obstacles landlords encounter during the application process, like unit vacancy periods and the resulting income loss. In what often feels like a stunted and slow-moving process for both landlords and tenants, RentRedi's initiative to deliver a better user experience is efficient and economical. Barone says auto-tenant screening was built to make screening easier for RentRedi's landlords:
"One pain point that we often hear is that it's difficult to find the right tenant. Screening applicants is time-consuming, but it's critical in securing the best tenant. So, when we built the auto-screening feature, we were able to integrate it with the application process. Now, with the click of a button, the tenant can send their application and full screening to the landlord—effectively condensing a long process into one step. The sooner they can screen tenants, the sooner they can fill units."