10 Tips on How to Avoid Rental Scams
It's important to know how to avoid rental scams because the real estate industry can be rife with fraud and con artists. Unfortunately, because many real estate listings are online now, it opens both landlords and tenants up to being potential victims of fraud.
However, with a little savvy and awareness as to what rental scams are, how to avoid them, and how to report them, you can reduce your chances of being scammed.
What are rental scams?
To understand how to avoid rental scams, it's important to understand what they are.
As we outlined in our previous posts about rental scams and property listing scams, real-estate-related fraud can encompass a variety of illegal activities.
Two common rental scams are fake property listings and overpayments.
For example, scammers might post fake listings or steal real estate ads to solicit funds from unsuspecting tenants seeking their new home.
Conversely, landlords might lose money from scammers pretending to be tenants via an overpayment. (E.g., "I accidentally paid extra for the security deposit, can you send the money back?" when, in reality, the "tenant" never made a real payment in the first place.)
How to avoid rental scams
While there are a lot of steps you can take to avoid falling victim to a rental scam, below are 9 signs of a rental scam that you can be on the lookout for, whether you are a tenant or landlord.
If a property's rent seems too good to be true…it probably is.
The realtor/owner isn't able to let you into the rental with a key
The tenant submits an overpayment for screening/security deposits/rent & wants you to wire the money back
The realtor/owner is unable to meet with you/is out of the country
The realtor/owner requires an upfront deposit or down-payment before showing the property
The realtor/owner tries to get you to rent quickly, without seeing the property
The realtor/owner wants you to pay multiple months of rent upfront
The realtor/owner communicates only via email (often with typos) and doesn't offer a phone number
The tenant won't submit to a screening/application
The tenant refuses to meet or submit evidence of identity
Of course, there are many other ways to protect yourself against rental scams, but the above steps are a great way to start.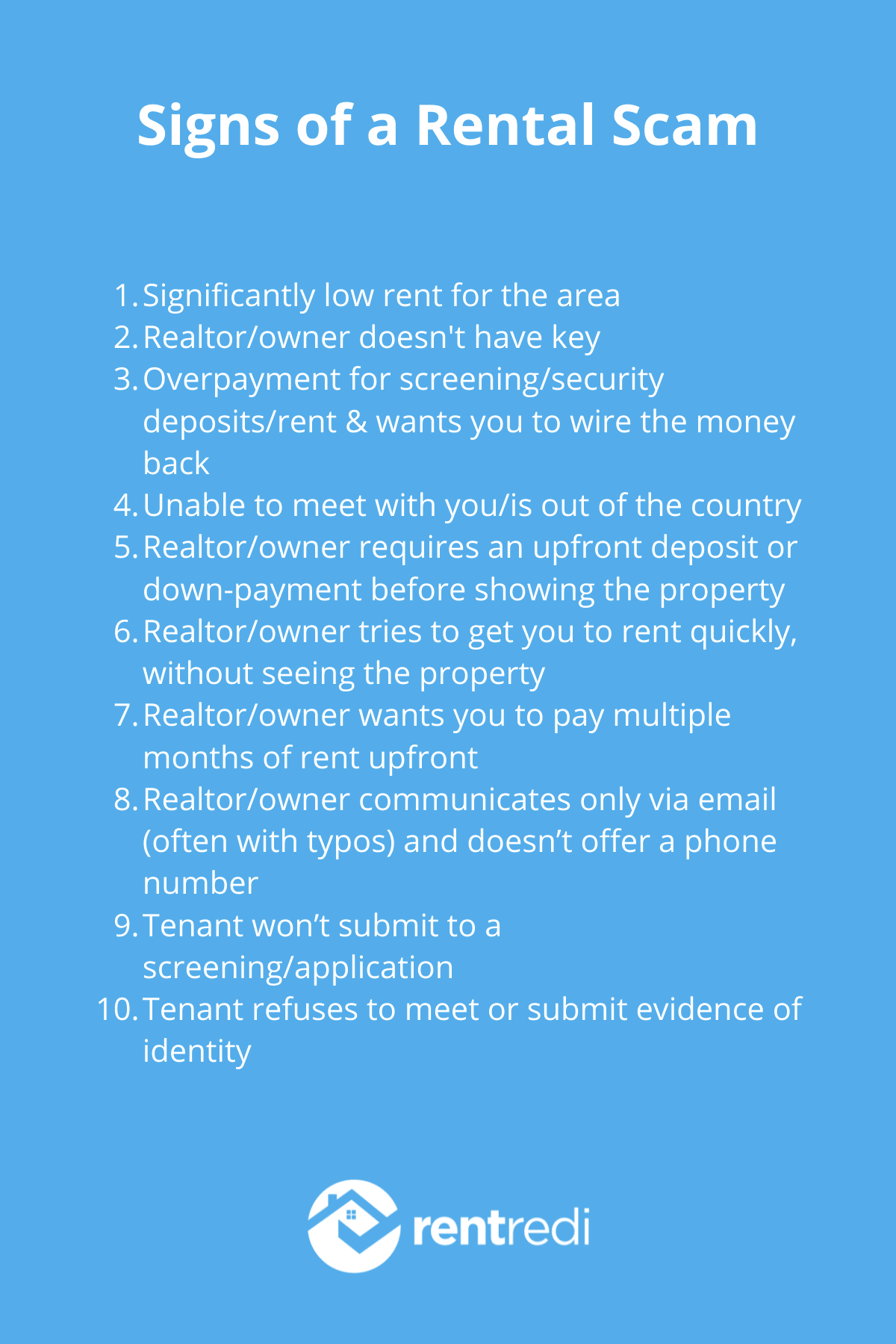 How to report rental scams
When it comes to being scammed or conned, it is often not reported because victims feel at fault or embarrassed for falling for a scam. However, it's important to report scammers in an effort to prevent others from falling prey to them as well.
If you are a landlord/tenant and think someone is running a rental scam, report it to your local police department, the listing site (e.g., if you saw a fake listing on Realtor.com, you can report it to Realtor.com), and to the FTC.