How to Switch to RentRedi to Manage Your Properties
Ready to switch to RentRedi?
When it comes to managing your properties, you want the best of the best property management software to help you streamline online rent collection, listing and leasing, finding a tenant for your rental, and managing maintenance.
So it's no wonder you switched to RentRedi. 😉 Welcome!
Frequently Asked Questions About Switching to RentRedi
We're dedicated to creating the best landlord-tenant experience supported by our platform! If you're switching from a different property management platform, it's easy to get up and running on RentRedi!
Do you have a letter to tenants I can use to explain I am switching property management software?
Yes, we do! In our help center, you can find a letter template for tenants you can use to help explain the switch to RentRedi—and the benefits for the tenant for switching!
Is there any support for me, my team, or my tenants when I make the switch to RentRedi?
Yes! We have chat support available to both landlords and tenants, 1-on-1 support sessions with our customer service team, and help articles & videos to help you get set up.
What are the benefits of switching to RentRedi over another platform or property manager?
We are SO glad you asked! While there is a lot of software and property managers who can help you manage your rentals, here's why we think RentRedi is best:
We are always adding customer-requested features. Our platform is always innovating based on current customer feedback; we don't let our product get stagnant or outdated for a rapidly-evolving tech world.
Our plans are flat-priced. You never have to pay more to have access to more features. Our subscriptions include ALL of our features—pay per month, per quarter, or per year.
Our customer support team is human & at your service. Wanna know how something works, if we have a certain feature, or just want to get a friendly wave in the chat? RentRedi's customer support is top-rated and friendly. ????
Are other landlords switching to RentRedi?
Yes! Landlords across the US are digging using RentRedi to manage their properties. Similar to to reasons listed above, landlords and tenants love our mobile products and customer service! Check out more reasons why landlords switched to RentRedi.
Your RentRedi Setup Checklist
Getting started with RentRedi is simple: After you create your account, you'll add payment accounts, properties, tenants, and charges to start building your dream of passive cashflow! 😉
Add Your Payment Accounts
After you set up your RentRedi account, you can begin adding payment accounts and properties.
Have LLCs for each property? You can create property-specific payment accounts for each property!
Legally required to keep security deposits separate from your rent? You can create payment accounts just for that as well!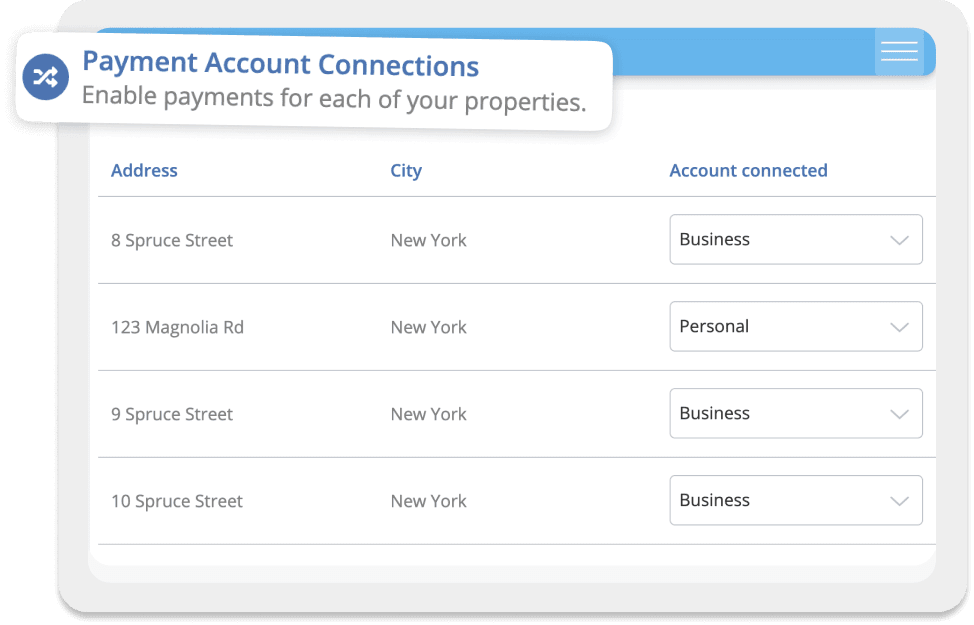 Add Your Rental Properties
If you're signing up for RentRedi…like right this second, you'll be automatically guided to set up your properties! But if you sign up and need to add properties later, you're able to do so easily.
You'll be able to add:
Property details (address, city, state, zip code, # of units)
Unit details (unit name/number, status (occupied or vacant), lease amount, lease start and end date)
One of my personal favorite features of RentRedi is that you can add UNLIMITED properties, and there's no minimum requirement. So, whether you have 0 (still waiting to close!) or 100,000,000,000 (you get the idea), RentRedi will stay the same price.
Add or Invite Your Tenants
When you add your tenants to RentRedi, you'll be able to add them—with or without sending them an invitation. You can add their email & phone number so (if you choose to send the invite) they'll receive both an email & text on how to download & connect to their unit via RentRedi!
Set Up Online Rent Collection
After properties and tenants comes…rent! Online rent collection is simple with RentRedi:
Indicate the charge type (rent or other—i.e., bills, fees, security deposit, etc.)
Fill out the property & booking info
Ensure the tenants are listed to connect to their charges
Select the rent amount, lease dates, and frequency of the charge!
Done! Your rent charges will be created, and your tenant can simply go into their RentRedi tenant app every month to pay their rent.
Tenants can then set up rent reminders, auto-pay, or sign up for credit reporting!
What are the reviews of RentRedi?
RentRedi is top-rated property management software! Check out our customer reviews and see why landlords are switching to RentRedi for their rental management software needs!
How do I sign up for RentRedi?
If you're ready to make the switch to RentRedi, you can get started here!