Are Smart Amenities the Next Big Thing?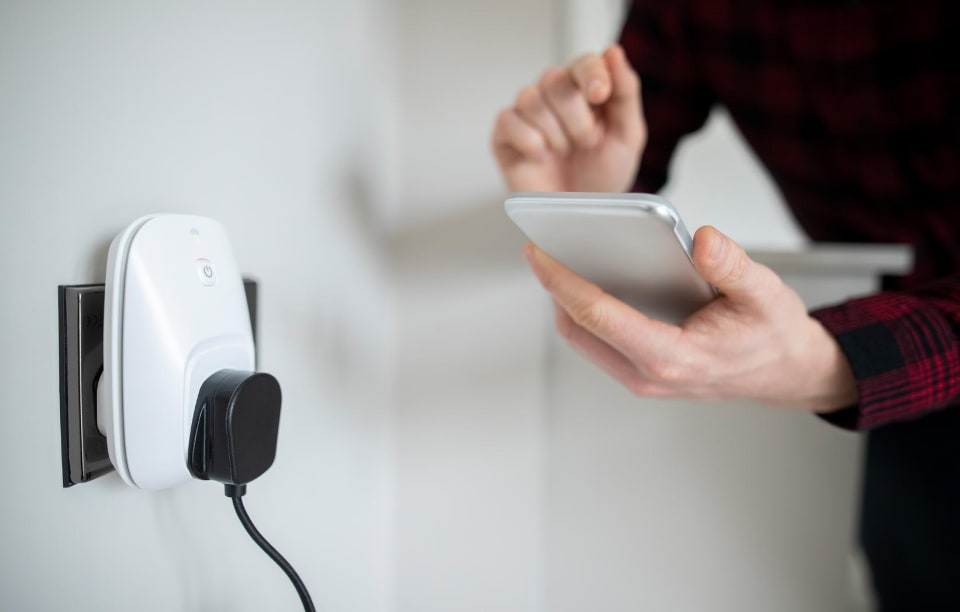 Apartments with smart amenities—are they the next big trend in the real estate world?
Tenant acquisition and retention strategies are top of mind for landlords looking to avoid empty units during the pandemic. This has many rental property owners researching potential apartment amenities that can upgrade the renting experience to attract tenants and entice them to stay.
And a smartphone represents a world of opportunity.
As of 2019, 81% of the US population owns a smartphone, and with that, a large portion of the renter population. Because of this, landlords can use smartphones to elevate the renting experience.
Especially as we enter…Month 85 of Quarantine? The concept of comfort, safety, luxury, and convenience at home is becoming increasingly embedded in what we can do from our phone.
Work, school, self-care, socializing, entertainment. Phone, phone, phone.
Fortunately, tech can also be useful in the real estate industry. The concept of 'luxury' or 'convenience' at home doesn't necessarily need to be a bright, shiny new rental with marble countertops…with oceanic views…and a built-in jacuzzi…wait—where was I?
The point is, luxury is becoming a quickly adapting term that can mean "It's day 204 without being able to go to a coffee shop, and I would cry if someone made me coffee."
It can mean not having to carry a bulky set of keys when you go out for your once-daily walk, and instead just opening your door with your phone.
It can mean snuggling down in bed to watch Selling Sunset and not having to get up and turn the lights off just as you're drifting off to sleep.
It can mean just tapping a button and your rent is paid.
Cue: smart amenities.
Smart amenities don't necessarily mean you have to gut your rental and invest thousands of dollars in luxurious upgrades to attract renters. It also doesn't mean you have to provide wifi as an amenity, which can come with its own set of problems. In fact, adding a few tech-driven appliances that can operate right from a tenant's smartphone might not be as difficult as you'd expect.
Smart Locks and Keys
Especially in an age where 'keys' are clunky, yet ironically easily lost, smart locks might be key to an initial foray into smart amenities. Especially if it's time for lock turnover anyway. 
Smart locks like Lockly offer a wide variety of tech-savvy and security options, such as: 3D fingerprint scanner, mobile app control, integration with Alexa and Google Assistant, and offline access.
Smart Thermostats
We've written about whether or not smart thermostats are worth the cost before. If you're looking to dial up your amenities, renters typically enjoy the convenience and energy-saving capability of smart thermostats. Not only can the temperature be adjusted from their phone, but they can also reportedly save 15-20% off an energy bill. Popular models include the Google Nest and Ecobee.
Smart Appliances
If you're looking to swap out old appliances, you might consider smart appliances as you research replacements. The LG Electronics line includes a range of appliances: from the smart refrigerator, washer and dryer, dishwashers, and oven ranges.
Smart Plugs
If you want an easier alternative to smart appliances, smart plugs might be your best option. They can even be a nice housewarming present for your new tenants without having to spend too much or invest in a lot of smart amenities. They can be controlled from a smartphone app, set on a timer, and you have plenty of options for around $20.
Also, remember when I mentioned the luxury of someone making coffee for you without having to get out of bed? SMART PLUG + COFFEE MAKER = LUXURY.
Smart Lighting
Listen, y'all, there is an entire world of smart lighting that I'm sure is super luxurious and convenient…if you understand it. Personally, I don't feel like the brightest bulb in the box when it comes to smart lighting options.
BUT, brands like Leviton have smart lighting that runs off of the internet or wifi, which makes them a little easier for a beginner. They offer a complete line of Wi-Fi-enabled smart dimmers, switches, and plug-ins that can be managed from an app and connect to Alexa and Google.
Want to go even simpler? LIFX offers app-controlled light bulbs, so no bridge or hub (whatever that means) necessary.
Smart Blinds
I don't know why, but smart blinds just scream (in a relaxing way) luxury and convenience to me. To be sure, they can be pricey but WOW, what an experience.
Smart blinds and roller shades like Tilt are highly reviewed in the smart windows world. They are app-controlled and run on rechargeable batteries that connect to a solar panel, which is included. You can also get free swatches and check for window and phone compatibility before ordering. Additionally, you can connect them to Alexa and Google Assistant.
"Alexa, I'm done staring thoughtfully out the window wondering when this hell will be over with—shut the shades, please!"
Smart Rental Software
Of course, the cornerstone of luxurious and convenient smart amenities is smart rental software so no one has to pause Selling Sunset or leave their bed to drop off a check or make a trip to the bank.
Landlord-tenant software like RentRedi fortifies the renting experience with tech. Providing renters with a mobile tenant app that enables them to pay rent, schedule rent reminders, set up auto-payments, send video maintenance requests, and even get renters insurance? Truly luxurious. 
Smart Renting: The Wave of the Future?
With an increasing population of smartphone users, and more interest in renting vs home owning, the question isn't will smartphones be a part of the renting experience, it's how smartphones will be a part of the renting experience.
From smart rent to smart blinds—there are plenty of options for landlords and rental property owners looking to add some techy upgrades to their rentals to attract and retain renters.
In the age of rapidly increasing smartphone adoption, smart amenities can be an attractive addition to the renting experience that elevates the comfort, luxuriousness, and convenience of home when developing a retention strategy for tenants during the pandemic.