Ultimate Guide to Rental Property Maintenance
Introduction to Rental Property Maintenance
One of the most common pain points for landlords after filling a vacancy is maintenance requests. Not only is it stressful trying to coordinate schedules between tenants and maintenance personnel, but repairs can also take a toll on your personal and professional life.
Being a landlord is a 24/7 job—when a tenant calls at midnight about a flooded apartment, you have to take the call, figure out how to negotiate the repair, coordinate with the tenant, and then try to get someone on the phone to come out and fix the issue.
Not only is your personal time disrupted, but a repair not handled efficiently and swiftly is costly to your business as well.
That's where this guide comes in. With this guide, we'll provide an outline for the four ways you can handle rental property maintenance. And, not only are we going to help you decide on the best course of action for managing your rental property maintenance, but we'll offer tools & tips along the way that ensure your rental business operates smoothly—without wreaking havoc on your personal & professional lives.
Chapter 1: Managing Expectations With Your Tenants
Without any shadow of a doubt, a core component of managing maintenance with your tenants is managing expectations. Maintenance can be a huge source of tension for the landlord-tenant relationship.
However you choose to set up your rental property maintenance, it should be clearly outlined to the tenant so those expectations are set immediately. Just like maintenance, it's better to be proactive than reactive.
This upfront communication regarding how repairs are handled for your rentals will guide the future of your landlord-tenant relationship and how future property maintenance issues are processed. This can (and should) be written directly into your lease.
Here are a few suggestions we have for what to include:
#1: Outline Your Property Maintenance Policies
If you have policies related to property maintenance, make sure they are clearly delineated and outlined in your lease.
If you have yet to draft any rental property maintenance lease addendums, here are few questions you can consider as you get started:
Who should a tenant contact for repair issues?
How should a tenant contact you/others for maintenance?
What's the procedure regarding emergency maintenance requests?
What is your tenant responsible for maintaining?
Remember, each state will also have its own landlord-tenant laws related to maintenance, repairs, and upkeep, so it's important that you're well-versed in how those responsibilities factor into your lease maintenance policies.
#2: Lay Out What Your Tenant is Responsible For
When it comes to keeping your rental property properly maintained, you'll want to layout clearly in your lease what upkeep the tenant is responsible for.
You'll want to set up an inspection schedule and also layout clearly what maintenance your tenants are responsible for.
According to a study from Porch.com, landlords typically cover 78% of all rental repair issues, which break down as follows: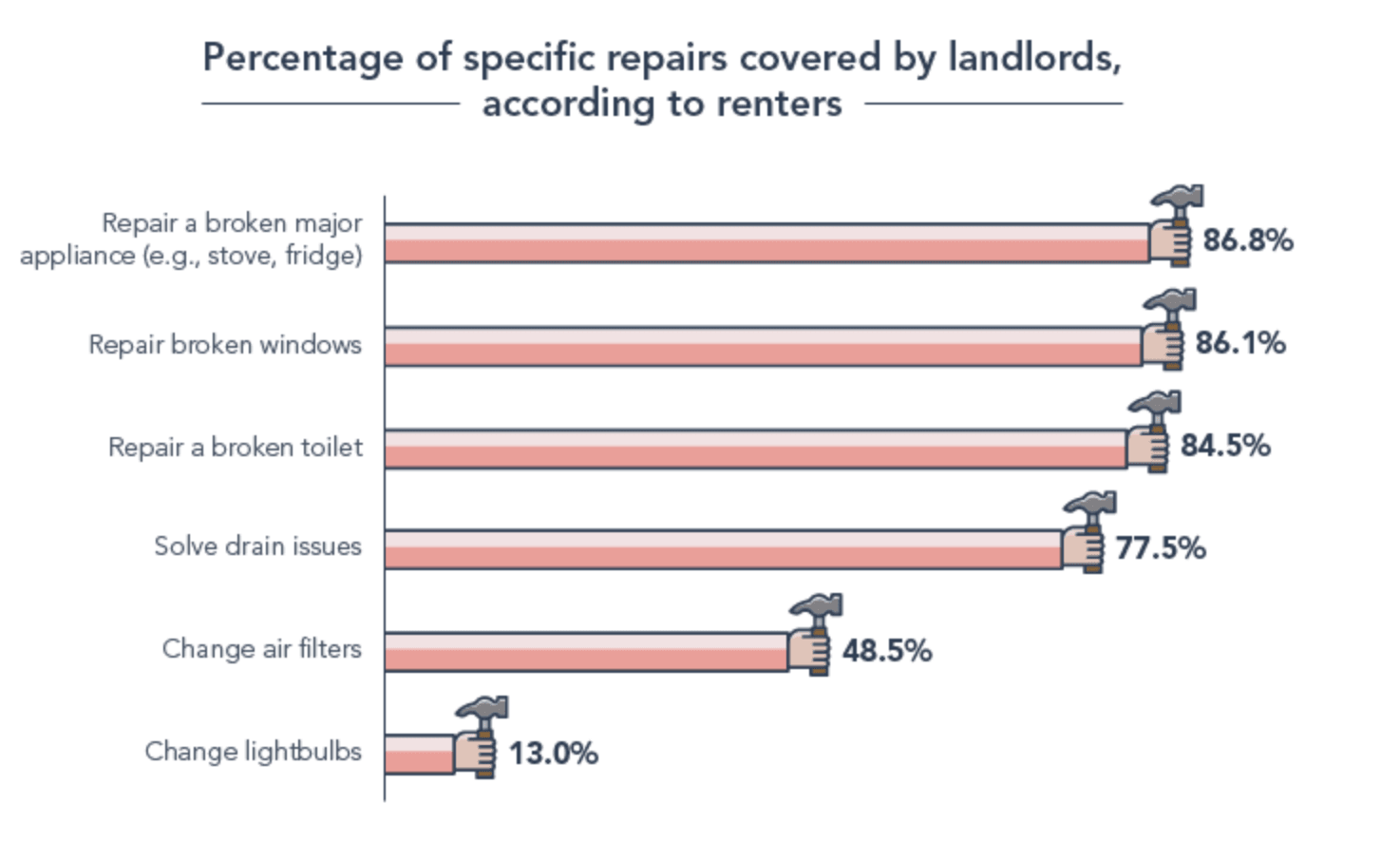 #3: Set Up Regular Routine Inspections of the Rental
You'll also want to set up an inspection schedule and process to ensure that tenants are taking care of your property—regardless of how good a tenant they are.
It is easy to forget or let things slide, so following up on preventative property maintenance upkeep is crucial to protecting your investment. And also keeping tenants happy with a properly-maintained and inspected home.
The schedule should be outlined in the lease, but it's important to keep regular rental inspections to ensure your tenants are following up on their end. This preventative maintenance ensures that larger issues (broken heaters, fire hazards, etc) don't cumulate as a result of negligence.
Chapter 2: How To Make Sure Maintenance Requests Are Received
Maintenance issues are going to happen—at 2 pm on a Monday or midnight on a Friday.
We suggest that you know how you are going to get contacted, that you make sure you are able to receive a notification, and that you have a plan on how to handle the issue before it happens.
#1: Provide Contact Information
Landlords often have two sets of contact information: personal and business. What you choose to include for contact information will be what feels most comfortable for you. However, we recommend establishing professional contact information that is related to your business only.
Having a business email and phone number creates a business barrier between you and your tenants that doesn't result in having your personal contact information compromised in case you ever end up having to evict a tenant.
#2: Layout Best Channels of Communication
Importantly, decide on your preferred channels of communication with tenants. You can opt for business forms of contact information—what you decide should be right for your business and feel comfortable for you.
However, it's also important to establish the best way to contact you — whether it's via text, email, phone call, or RentRedi's maintenance form. And, if you opt for premium maintenance services let the tenant know that's their first go-to contact for any repair issues.
Here are our tips for establishing best practices for communication channels:
Phone Calls/Text: Make sure you have your tenant's number saved and check your voicemail if you miss calls. Don't be the person with a voicemail that is full while your tenant's apartment floods! Let your tenant know it is okay to text, if you feel comfortable with that.
Email: Turn on notifications for the email address. Perhaps create a unique one for the property or make sure you add your tenant's email addresses as important.
RentRedi Maintenance Request Form: When you add your tenants to RentRedi, they'll be able to submit maintenance requests directly from their app. This provides a standardized collection form you can use to more easily manage the requests and accurately assess the severity (or lack thereof) of the issue from your RentRedi maintenance dashboard. In the RentRedi app, you'll receive a notification when a new maintenance request is submitted.
Premium Maintenance Services: If you use premium maintenance services via RentRedi, ensure the tenant has saved the dedicated phone number (sent in the invitation email & also included in their RentRedi app) so the tenant will be calling them and NOT you. Tenants and contractors can resolve the issue independently, while you are able to manage & see everything from the maintenance dashboard provided in RentRedi.
#3: Use a Maintenance Request Form
A key factor when establishing channels of communication regard maintenance requests is actually understanding the issue.
It can be difficult for tenants to describe exactly what the issue is via email or text, so creating a form of some type that can collect consistent information, categorize the issue, and even attach visuals can be truly beneficial in clarifying repair issues.
Property management software like RentRedi is an excellent method of efficiently handling maintenance requests.
RentRedi, for instance, provides a standardized form to tenants via their renter mobile app. Tenants can input a description of the issue, categorize it (e.g., water, electricity, heat/AC, etc), write any notes, and then attach a 5-second video of the maintenance problem so landlords can see precisely what is happening.
Not only does the RentRedi tenant app make it easy for tenants to pay rent and submit maintenance requests—two major hurdles in the renting process—but the maintenance features will help *you* manage maintenance more efficiently. Plus, the 5-second video feature helps landlords and any maintenance team members understand more clearly what the issue is.
#4: Designate Premium Maintenance to Handle Repairs for You
RentRedi also provides landlords with the option to sign up for property maintenance services provided by Latchel. This is a great option for long-distance landlords, landlords who are struggling to handle repairs themselves, or landlords who just simply don't want to deal with the headache and hassle that comes with managing maintenance.
When you sign up for property maintenance services with your RentRedi subscription, your tenant receives a dedicated line for emergencies, and can still submit general repairs via RentRedi.
And, similar to regular maintenance requests in RentRedi, you can view these repairs, check the status, and even take over from Latchel if you feel it's a repair you're willing and able to handle yourself.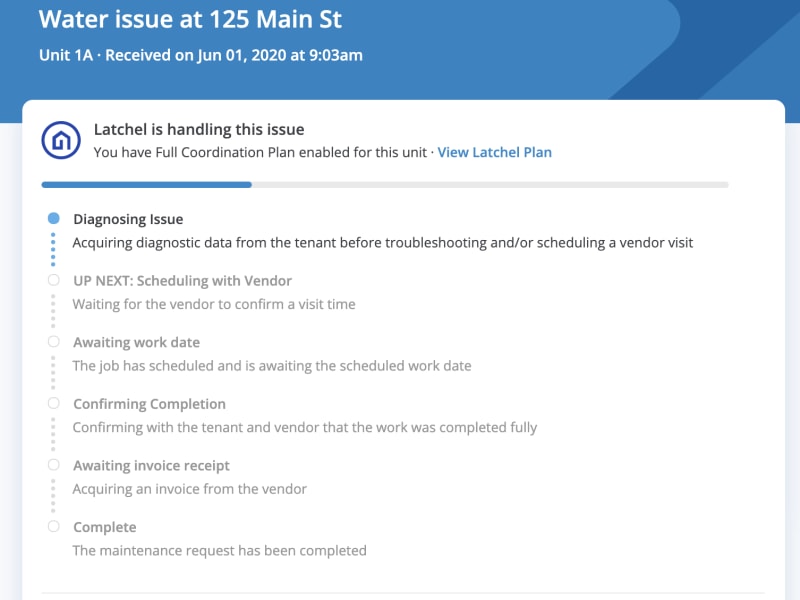 When you've decided which option you want, make sure it's specified in the lease & your tenants have the contact information available.
Chapter 3: How To Build a Maintenance Team
A few of the more common maintenance issues include HVAC, plumbing, electrical, general handyman fixes, and landscape or yard maintenance.
A key to being prepared and proactive when it comes to rental property maintenance is establishing connections & personnel for each common issue.
If you're just starting out in managing rental properties, there are a few ways you can start developing your maintenance network and building a maintenance team.
#1: Review Sites & Research
There are many sites that rate & review service professionals that you can use to search for rental property maintenance service providers. Depending on which site you use, you'll be able to see how others rate a service provider and even see if they have been background checked and screened.
HomeAdvisor
Yelp
BBB
#2: Local/Online Landlord Forums
Asking around can be helpful as you build a list. If you aren't a part of any local groups, there are luckily quite a few social networking sites that can probably provide you with ways to find and connect with real estate professionals and landlords in your area.
Word of Mouth
Facebook Groups
Meetup
BiggerPockets
Reddit
These groups can provide insider information regarding the best maintenance personnel to contact for repairs in your local region.
#3: Vetted Maintenance Service Contractors
If you've exhausted your research options, can't seem to find that perfect maintenance professional match, or are not yet able to afford a full-on maintenance team, premium maintenance services are the perfect alternative.
Not only do you not have to pay for a full-time maintenance technician, but premium maintenance services via RentRedi let you tap into a network of highly-rated, quality maintenance contractors that can efficiently handle all repairs (emergency included).
With maintenance services, you don't have to worry about trying to source and vet someone yourself for the job—Latchel (via RentRedi's partnership) does it all for you. And even handles repairs with the tenant directly so you don't have to play the middle person or go-between.
Latchel's contractors are rigorously vetted so you know they're good-to-go. Contractors are licensed, bonded, and insured whenever it is required by local law. Additionally, their recommendations and past work are analyzed for quality to ensure only the top-tier contractors are in Latchel's network.
Plus, since tenant satisfaction is important when it comes to handling repairs — Latchel always follows up with renters to ensure the repair was done well and the experience was good.
Adding Your Own Team
At the end of the day you want a name & number to call to cover the following issues:
Plumbing
Electrical
Handyman for general fixes
Landscaping or yard maintenance
Window repairs
HVAC
And to cover any issues that might be specific to the region or area you invest in, such as snow removal. You'll want to make sure that the names & numbers on this list are reliable, affordable, and that when you call, they answer & can take care of a problem in a reasonable timeline.
With RentRedi you can add your favorite maintenance person to your account, for free. Many services make adding extra seats or inviting maintenance personnel to the site an added cost, at RentRedi we see them as valuable members of your team who shouldn't have to cost more to include in your process. 
Or, if you have yet to find the best property maintenance manager for your rental business, you can sign up for premium maintenance services that find vetted professionals for you. All options can be managed from your RentRedi maintenance dashboard.
Chapter 4: Manage Maintenance Requests In A Timely Manner
Now that you've:
Included rental property maintenance policies in your lease
Established clear channels of communication and contact with tenants
Found your maintenance team or signed up for premium maintenance
It's important to ensure that maintenance requests are handled in a timely manner.
#1: Turnaround For Self-Managing Rental Property Maintenance
If you're handling maintenance yourself, it's important that you respond quickly to requests. In many states, this means within 24-48 hours by law.
While things like renter's insurance and landlord insurance can help cover damages to the property if the issue is serious, insurance companies might ask for proof of the issue, response, and remedy.
Importantly, to ensure you are not damaging your property, taking care of requests quickly is the best course of action.
#2: Turnaround for Premium Maintenance Services for Rentals
If you have premium maintenance, the turnaround time can be a huge perk to quickly resolving the tenant's repairs while also protecting your property investment.
For example, Latchel's troubleshooting experts can:
Resolve 20% of maintenance issues over the phone — without even calling a maintenance technician
Resolve emergency requests in 4-6 hours
Resolve non-emergency repairs in 3-7 days — depending on the tenant's response time and schedule.
Triage 20% of maintenance issues to reduce costs!
Chapter 5: Track Maintenance Request Expenses
You'll need receipts and tracking for tax purposes and to make sure you document all repairs. RentRedi allows you to add in cost, enter in status, and track expenses by the unit.
Additionally, when it comes time to export for your accountant or accounting software, you can create custom reports for maintenance requests and properties for your own records.
Chapter 6: Premium Maintenance vs Property Manager
As mentioned earlier, premium maintenance is an alternative solution to managing rental property maintenance yourself, but what about a property manager?
Property managers can be one method of handling your maintenance! However, if you're attempting to grow your business and streamline expenses, price is a critical factor in the equation.
Property managers charge 8-12% of monthly rent as a management fee. However, premium maintenance services cost less than 1% of your monthly cash flow, and you have trusted maintenance experts troubleshooting calls and resolving issues with your tenants—which can save you thousands of dollars a year.
#1: What is premium maintenance?
Rental property premium maintenance services are an excellent way to handle rental repairs— without having to go out yourself to fix the problem or research and hire a maintenance person. RentRedi partners with Latchel to provide a low-cost maintenance service for our landlords.
You can sign up for full coordination (emergency and non-emergency repairs) or 24/7 emergency repair coordination—whatever is best for your business and property!
After you sign up, tenants receive a dedicated phone number they can call for repair requests (or they can submit non-emergency requests through their RentRedi form as well).
Maintenance experts troubleshoot repairs over the phone before sending a contractor. (They will always stick to YOUR budget and consult you first if anything is over budget).
You can track repair status right from RentRedi.
Follow-up to Resolve: Latchel follows up at the end of the contractor's appointment to make sure everything got fixed. We follow up with both the tenant and the contractor.
Latchel's support network ensures the right response is given to a tenant's issue through every stage of the process. From when the tenant first reaches out to troubleshoot the issue to resolving over the phone or through dispatching vetted contractors.
#2: More control & less manual coordination with maintenance
Here are a few reasons why we love premium maintenance. Especially if you're a landlord on a budget trying to self-manage, save money, and grow your business:
Set Budget Limits: Latchel sticks within the budgets you set and will always call you if it ends up a repair will cost more than these limits. You have control, insight, and know where your money is going.
A Phone Number to Call—That isn't Yours: Your tenants can call Latchel's troubleshooting experts at 2 am— not you.
Status Updates from RentRedi: Latchel's premium maintenance integrates directly with RentRedi — so you have a dashboard that enables you to see the status of the repair and even take over the repair, if it's a fix you feel comfortable handling yourself.
Add Preferred Vendors: If you do manage to secure maintenance professionals you love and trust to do the job, you can add them directly to the Latchel network so they can coordinate with your tenants and technicians to get the job done without you being the go-between.
Find Trusted Contractors: No network of contractors? Not a problem. Latchel's network of contractors is vetted so you can find trusted maintenance personnel to resolve your property's repair issues without having to spend hours researching online or vetting technicians for the right qualifications and price.
Latchel has +65,000 units using premium maintenance and are backed by $1M insurance policy. That's the best reference we've ever seen for maintenance! Plus, Latchel has shown typical savings of $350/unit per year on maintenance.
Chapter 7: FAQs about Maintenance & Premium Maintenance
#1: I'm Going on Vacation, What Do I Do?
If you're going on a vacation, set up a plan to have a point of contact manage maintenance calls while you're gone. Premium Maintenance through RentRedi is an excellent way to handle maintenance while you're gone.
You'll get peace of mind knowing someone is handling repairs while you're gone — 24/7. Then you can focus on what matters most: you & your family.
#2: I'm A Long-Distance Investor, How Do I Manage Premium Maintenance?
We commonly hear from long-distance investors that the out-of-state property can lose 7% to a property manager.
If you choose to outsource premium maintenance, you save your money and still get the same peace of mind.
As mentioned above, you can tap into a network of vetted contractors and see the status of repairs from your RentRedi dashboard. Then, you know where and how your money is being spent. Plus, they follow up with tenants to ensure the job was done and done well.
#3: What are the price rates for different maintenance issues?
We use all local, licensed service providers. Landlords can expect to pay the service providers market rate. Based on average market rates, you can expect pricing around the following price points:
Handyman: $40-70/hr
Plumbing: $70-100/hr
Electrician: $70-120/hr
HVAC: $70-100/hr
Any emergency or midnight dispatches could be up to 2x higher based on your rental's city.
Conclusion
As you can see, there are a lot of options at your disposal when it comes to handling your rental property maintenance.
Having a system for managing maintenance is key: not only for protecting your property investment, maintaining a healthy landlord-tenant relationship but also for reducing costs associated with upkeeping your rentals.
Hiring property managers and full-time maintenance technicians can be a serious financial strain if you're getting started in real estate or struggling to cashflow your rentals. However, managing maintenance via RentRedi—either with our handy maintenance forms for tenants and dashboard for landlords or with our affordable premium maintenance services—you can actually save 7% by not hiring a property manager and $350/unit a year.
Being a landlord isn't just about collecting rent—you have bills to pay, repairs to make, vacancies to market, a team to manage, the list goes on. It can be a 24/7 job that cuts into your personal life.
However, this guide to rental property maintenance can help set you up for success when it comes to navigating maintenance issues:
Write maintenance policies into your lease
Set up contact information/channels of communication
Resolve repairs quickly
Track maintenance expenses
Set up premium maintenance services
With these steps in place, you'll not only ensure your investment is protected, but that property maintenance repairs are handled efficiently and professionally—all while establishing a healthy business and cost-effective procedures that don't infringe upon your personal & professional life.