Get Peace of Mind
Managing Maintenance
Let someone else deal with scheduling & coordinating repairs, saving you time!
Set a budget for maintenance requests & approve over-budget quotes
Add your trusted service providers & coordinators will call them on your behalf!
Rest easy knowing your repairs are covered by a $1,000,000 insurance policy, even if you are the maintenance person!
What Maintenance Coordination Looks Like In Action!
View a timeline of activity on all maintenance requests
In the RentRedi maintenance request dashboard, view the status for each maintenance request
Status requests are sent to tenants, automatically
Tenants receive an email & text to add more detail about the maintenance issue and provide their availability. This is to schedule a contractor visit or speak with a coordinator if troubleshooting is needed.
If a maintenance request goes over your hard budget, Latchel will reach out to you directly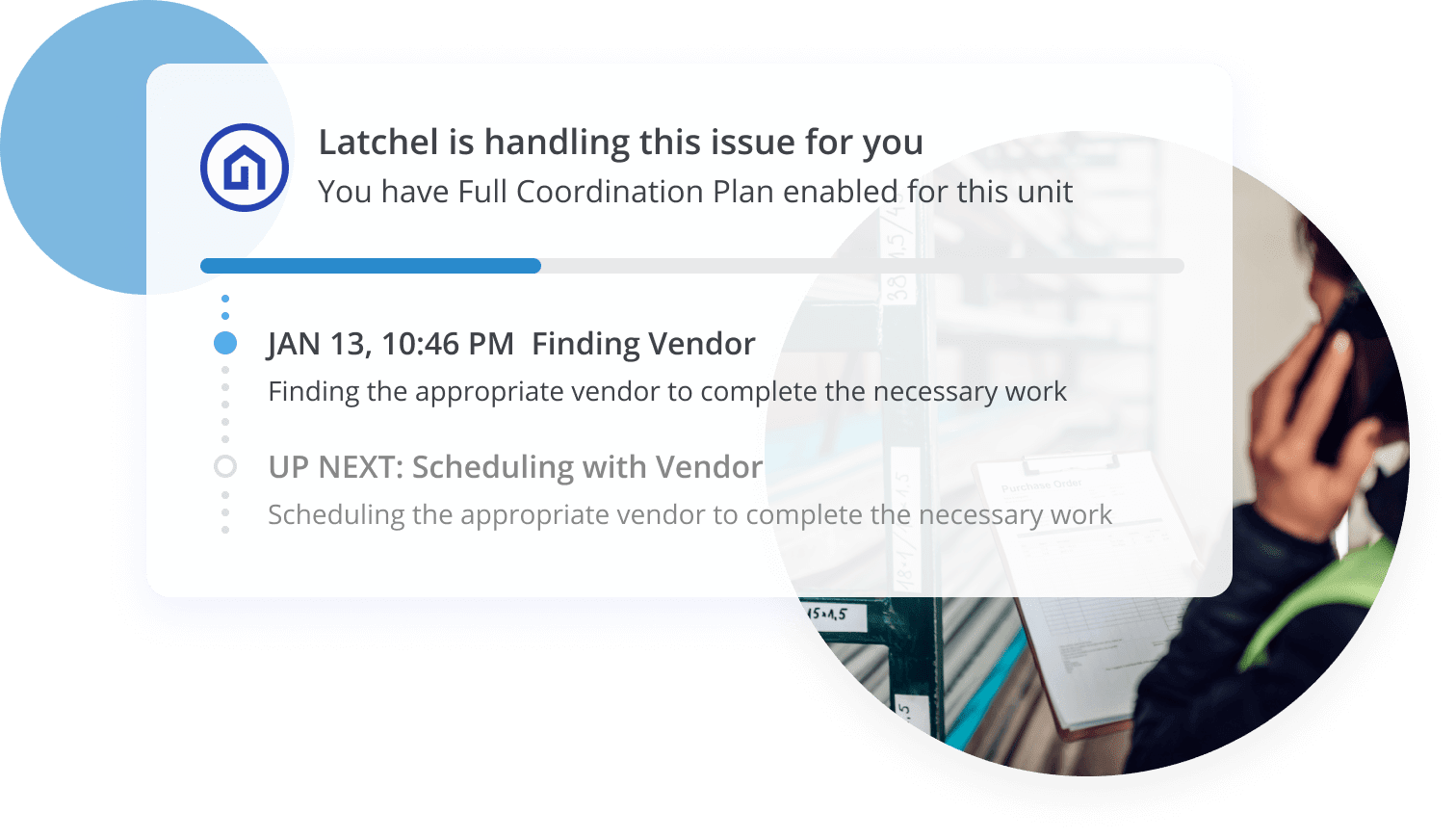 Results That Raise The Bar
When you opt-in to maintenance coordination services, tenants can then submit maintenance requests through call or text on a dedicated line. The dedicated line screens and troubleshoots maintenance requests before sending a contractor. Landlords set rules around the price of repairs and are kept informed every step of the way.

Spend 80% less time coordinating maintenance

Keep Your Investments Protected
Never miss an emergency. Backed by Latchel's $1,000,000 insurance policy

Latchel averages a 4.7 out of 5 star rating for resident satisfaction.
Take a Break From Maintenance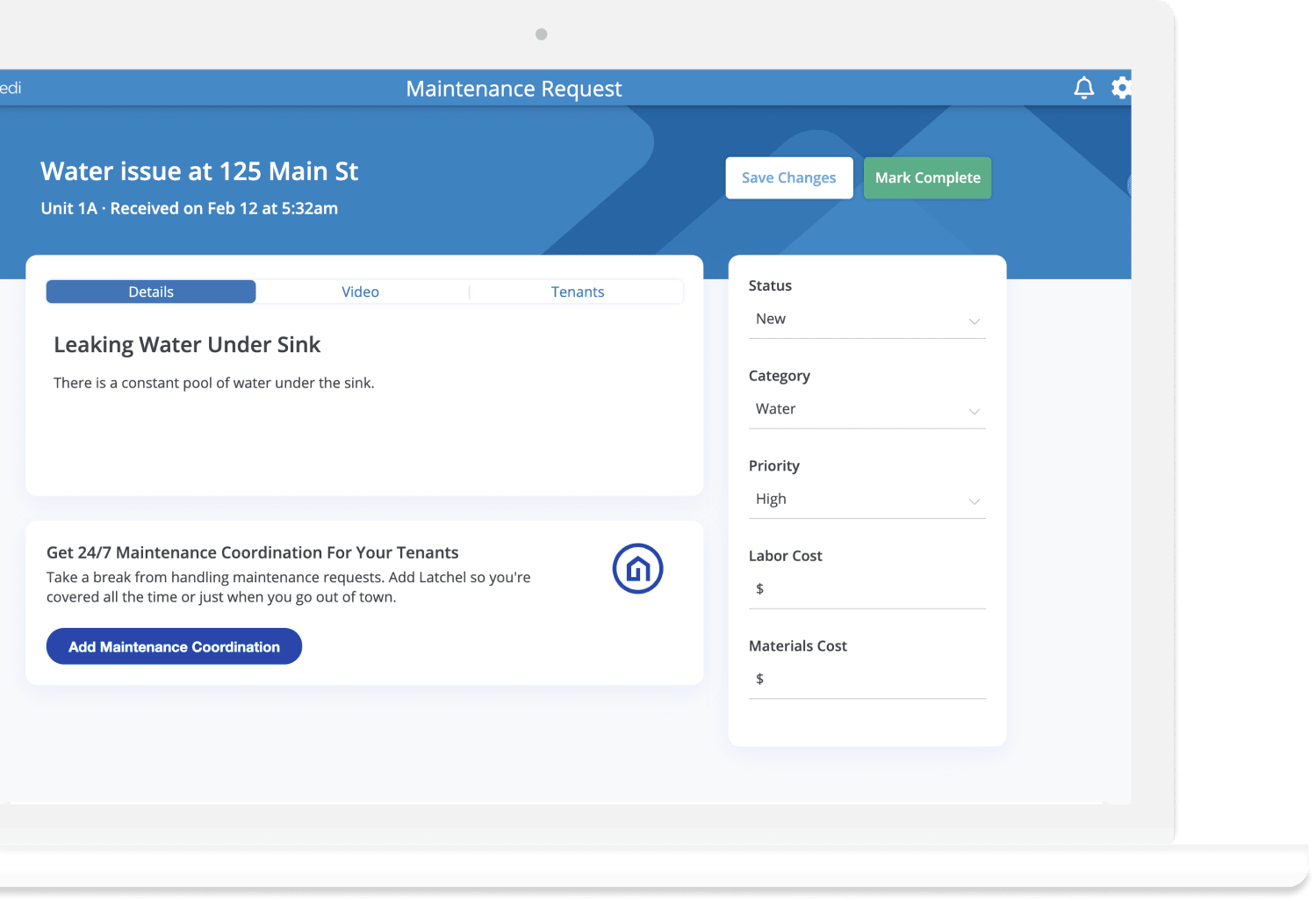 Already have an account? Add maintenance coordination to an existing property
Create a new maintenance request in your RentRedi account
Select "Add Maintenance Coordination" from the left-hand menu.
Select the service best fit for your property
Sign up for service and add payment all within RentRedi
Forget about managing maintenance requests!
Just Signed Up? Add maintenance coordination to a new property
Create a new property from your RentRedi dashboard
After entering in property details, you'll be prompted to select a maintenance coordination service best for your property
Sign up for service and add payment all within RentRedi
Forget about managing maintenance requests!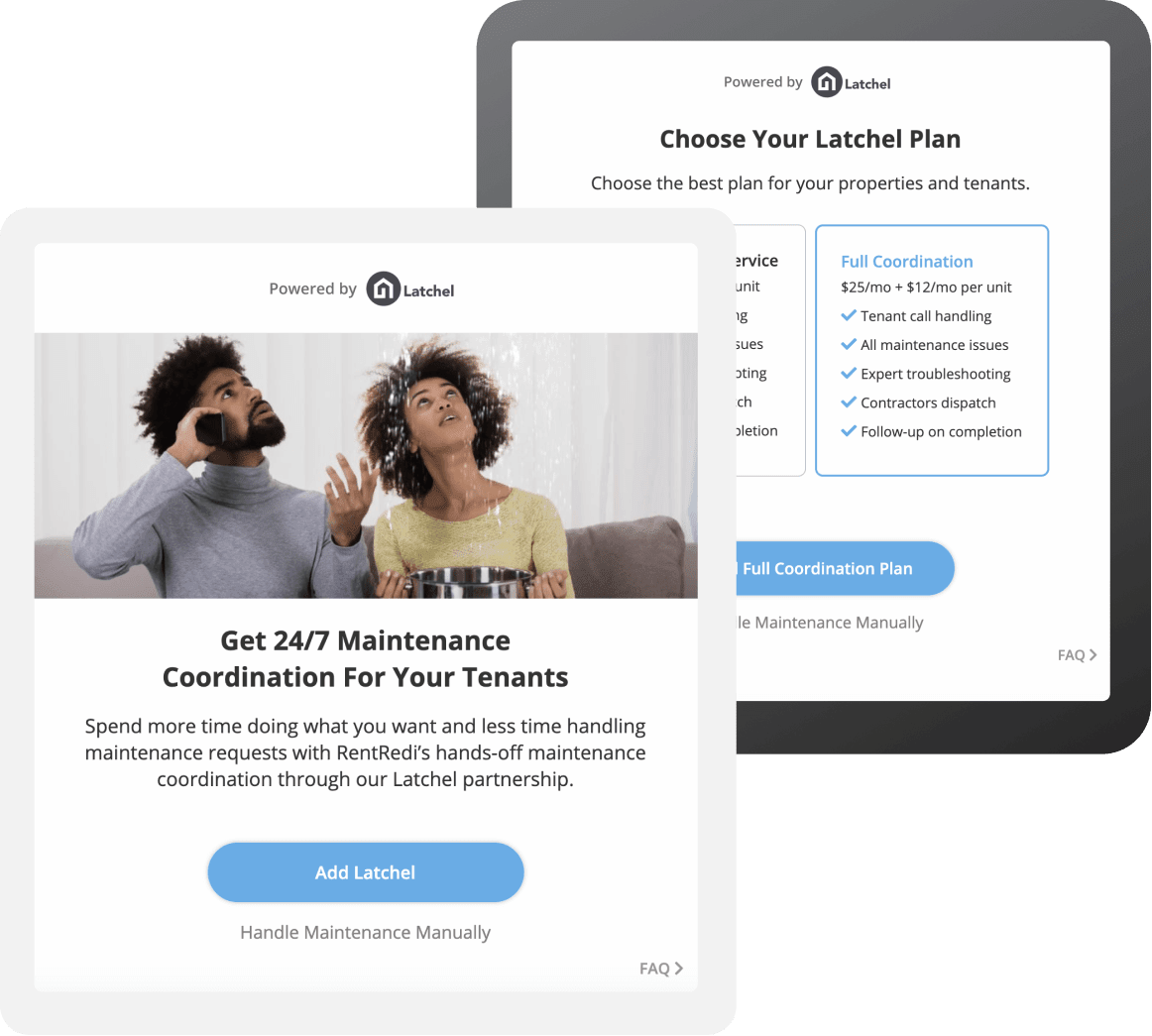 The NUMBER ONE issue holding me back in real estate ownership and property management is maintenance. I've been saying for years "If I could figure out a way to automate the reactive portion (maintenance calls) then I'd be so much happier in life! Latchel does this, and I'm very excited to try it out on my properties!!
What do I like best about RentRedi's maintenance coordination?
The fact that I don't have to respond to emergencies!
All plans are month to month, no long term contracts.
24/7 Emergency Service
$15/mo per unit
Full Coordination
$25/mo per unit