RentRedi Adds Customization Features to its Property Management Software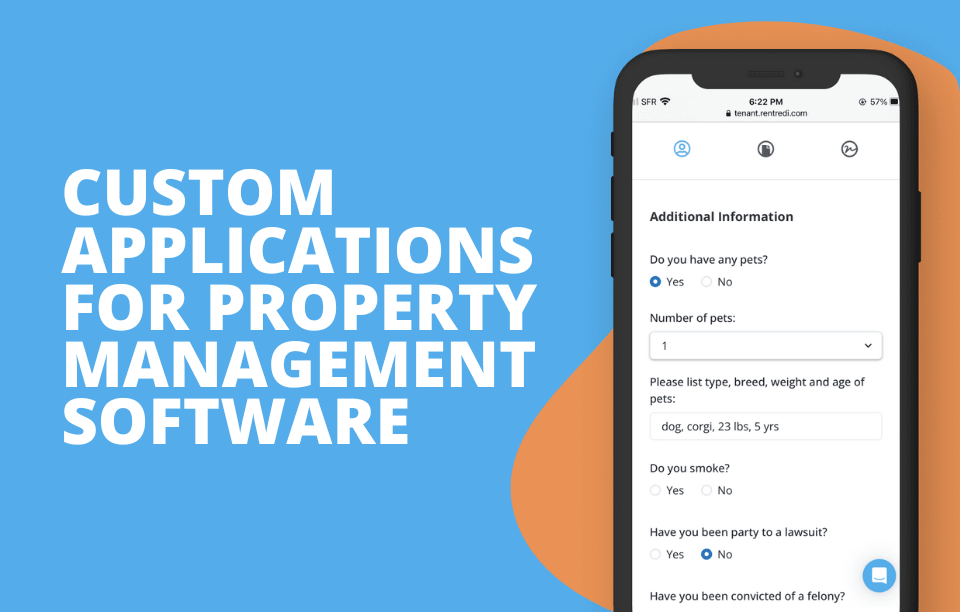 RentRedi has added new customization features to its innovative cloud-based property management software, further easing the rental process for both landlords and renters. Using the new customizable options within the RentRedi platform, landlords and property managers can now build their own pre-qualification and application processes that best serve their individual needs and help them attract and identify more qualified tenants.
The new update provides landlords with a choice to either customize their application process through RentRedi's template builder or rely on RentRedi's standard application template if they prefer not to apply customizations. Landlords also have the option to either start a template from scratch or start by using RentRedi's default templates. From there, they can add or delete sections and decide whether to mark sections as required.
The customization option invites prospective renters to answer specific questions to collect information that can help landlords make better decisions. Finding tenants that are a better fit for rentals leads to less turnover and evictions. This provides landlords with peace of mind that their investments are protected and will generate steady income.
Landlords can also add supplemental questions that are conditional to answers to prior questions, such as requiring additional details about pets or prior rental history. For example, a landlord can configure their application so that if a renter answers "no" to a question about having pets, they move on to the next question. However, if a renter answers "yes" that they have pets, follow-up fields will appear that require further information about the pets.
This update also improves the renter's experience by eliminating the need for them to repeat answers to common questions. Applicant answers to repetitive information gathered from previous questions are stored in the RentRedi system, and the information automatically populates each time renters file applications with other landlords that use RentRedi.
"We aim to make landlords and their tenants' lives easier by giving them everything they need, and nothing they don't," said RentRedi Co-founder and CEO Ryan Barone. "Our custom applications are a result of direct feedback from real estate investors, independent landlords, and tenants."
Demonstrating its leadership in the PropTech market, RentRedi was named an "Established Player" on Capterra's exclusive 2023 Property Management Software Shortlist based on the software's user ratings and popularity. The company also recently won three TITAN Business Awards and was recognized by G2, earning three 2023 High Performer awards and one 2023 Momentum Leader award based on a high volume of rave five-star reviews from its customers.
ABOUT RENTREDI
RentRedi offers a modern, cloud-based property management platform that eases the renting process for landlords and their renters by automating and streamlining processes. For landlords, RentRedi provides all-in-one web and mobile apps to collect rent, list and market vacancies, find and screen tenants, sign leases, and manage maintenance and accounting. For tenants, RentRedi's easy-to-use mobile app allows them to pay rent, set up auto-pay, build their credit by reporting rent payments to TransUnion, prequalify and sign leases, and submit maintenance requests through Latchel.
Founded in 2016, RentRedi is VC-backed and a proven leader in the PropTech market, earning recognition as a Capterra "Established Player," a G2 High Performer, and a G2 Momentum Leader based on the software's user ratings and popularity. The company has partnered with other platforms such as Zillow, REI Hub, Realtor.com, Plaid, Stripe, and Sure Insurance to create the best customer experience possible. For more information visit RentRedi.com.