6 Spring Cleaning Tips to Get Your Rentals Move-in Ready
Ready for spring cleaning your rental? Let's say your current renter's lease is up in a few weeks, and they are ready to leave your property soon. This means it is time to look for new occupants.
Sure, you may offer a reasonable lease, but it is not enough to make potential tenants sign the deal. Instead, they will look for a safe and clean condo, apartment, or house to rent.
To help, we have listed down six spring cleaning tips to make your rental property move-in ready.
1. Kitchen
Before presenting your property, you'll want to give your kitchen a deep clean.
Spring cleaning the kitchen can be difficult. But Maid Sailors Cleaning Service NYC, has tips to make kitchen cleaning manageable for you.
Start by clearing all shelves and cupboards. Scrub it from the inside and out before cleaning them with a clean, dry cloth.
Once you are done with the shelves and cupboard, you can move on to the oven and stove. You should also ensure that the fridge, dishwasher, and washing machine are spotless.
You should also check the back of most appliances. This space is usually dusty and full of cobwebs. As for your kitchen floors, you can vacuum if it's wooden. You can mop and polish it using wooden floor cleaners afterward.
2. Bedrooms
We spend one-third of our lives sleeping. Hence, we spend the same amount of time in the bedroom.
As a landlord, you must ensure a bedroom's pristine condition. You can start by removing the cobwebs from the ceilings and corners. You can do this by dusting any reachable surfaces, including the built-in closet if you have any.
You should also wipe the accumulated dust and dirt from the top of the door and curtain rails. Wipe and polish mirrors, picture frames, and other wall hangings.
Dust off all light fittings and lampshades, and clean and polish metal ornaments. Make sure that you wipe and polish light switches and remove or repaint dirty marks from walls.
Carefully clean the power sockets and extension cords. Lastly, vacuum all mattresses and mop the floor.
3. Living Room
Often, the living room is the first area that a potential renter will see upon entering your property. To ensure that it's clean, you need to ensure that it is dust-free.
If the floor is carpeted, it has to be spick and span. You can do this by vacuuming the floor. If any stains persist, you can use an industrial vacuum or hire a professional carpet cleaner.
Next, empty your shelves, cabinets, coffee table, cupboards, and TV stands, and give them a good shine.
4. Dining Room
Besides the bedroom, we also spend most of our time in the dining room — often with our family. Not to mention that you're likely to feed your guests in this area. Additionally, a messy kitchen and dining area are the common reasons vermins and pests invade your house.
To maintain sanitation and hygiene, we suggest that you deep clean this part of your house before accepting new tenants. If you have budget constraints, consider cleaning from top to bottom and in and out.
Start by emptying all the cupboards and drawers, clean from ceiling to floor, and inside the shelves, cupboards, and drawers. Make sure that your utensils and kitchen appliances are clean before bringing them back to their place.
Lastly, sweep and mop the floor.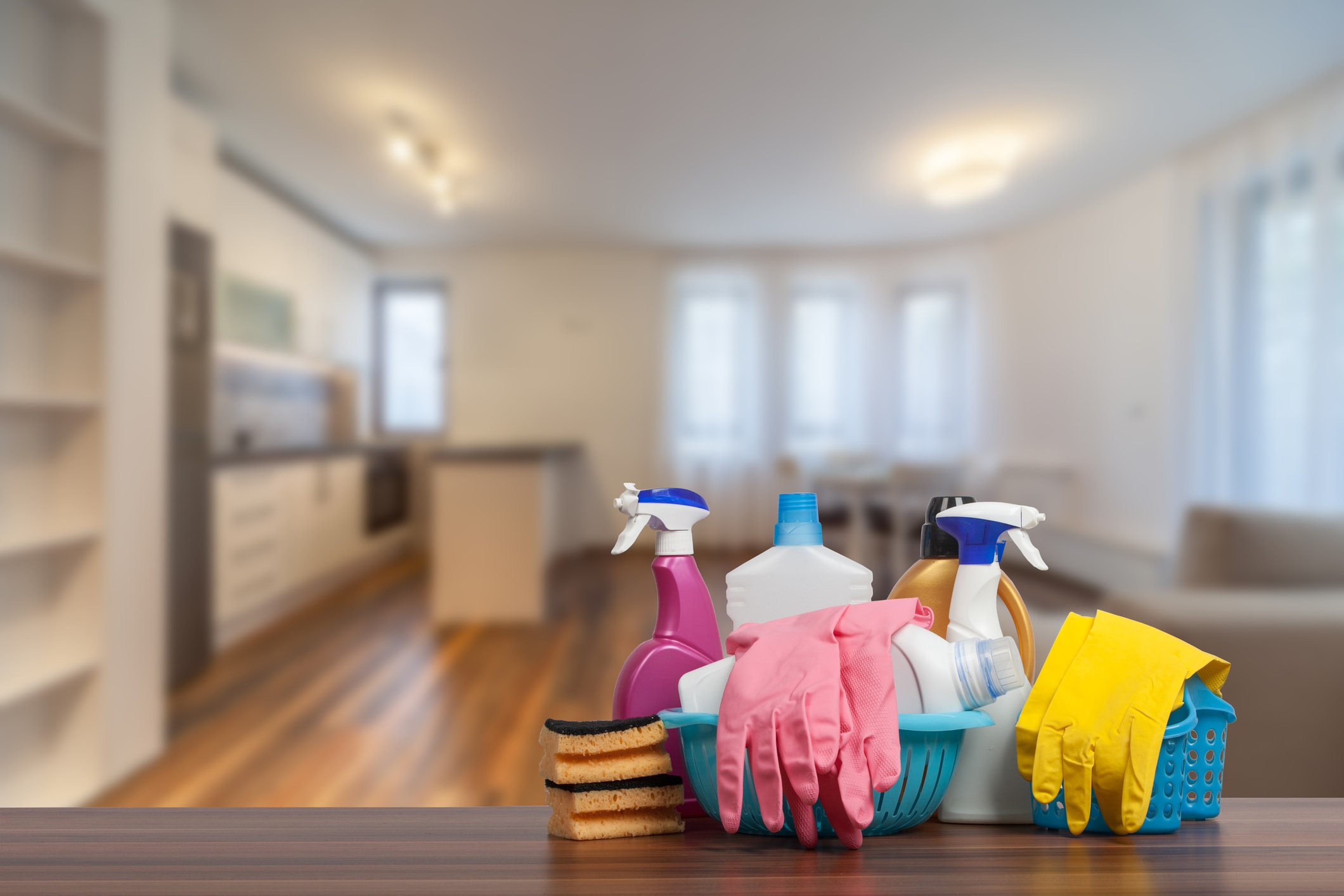 5. Bathroom
Your bathroom should be one of the last places you should clean. That way, you can go straight to cleaning yourself once you are done.
Regardless, your bathroom's cleanliness can make or break your potential to rent your property. After all, blemishes, stains, and limescale are bound to occur because of the moisture buildup.
Mind you, limescale can be revolting and leaves an unpleasant mineral buildup. Thus, you should thoroughly scrub and wash the bathroom floor, shower, sink, toilet, and bathtub. Also, ensure that plug holes and drains are free of debris and that the water flows swiftly.
6. Exterior
If you are renting a house, you should not forget to improve your curb appeal.
You don't need to have a lush garden. Nonetheless, it shouldn't be filled with garbage and dried leaves. That won't make your property inviting to potential tenants. The same thing goes with your backyard and swimming pool, if you have any.
Keep in mind that the first impression lasts. If you have a filthy curbside, you are less likely to make your property move-in ready.
Spring Cleaning Your Rentals
Managing a rental property can be stressful. That's because you have to ensure that your potential tenant is responsible and will take care of your property. Plus, a tenant should be someone who can pay the rent on time.
On top of that, you need to make your rental property move-in ready as quickly as possible. This is to prevent you from having months without passive income.
Luckily, the spring cleaning tips listed above can help make your rental property inviting to potential tenants. If you have an unoccupied vacant condo, apartment, or house, you can follow the tips before renting your property out.