Tenant Move In Checklist | Download
Ahhh, you've finally secured a renter for your investment property—now it's time for the tenant move in checklist!
Why is this important?
Unfortunately, managing properties doesn't end when you've found a tenant who will pay rent. You have to be sure you and the tenant are following procedures that will ensure the proper upkeep and maintenance of a property.
This is important for the long-term overall value of your property. After all, you want to be able to rent out an amazing property in the future or maybe you'll eventually want to sell your rental property.
How to Conduct a Tenant Move In Inspection
You have a few options that you can agree upon with the tenant. You want to kick off your renter's tenancy on the right foot, so make an agreeable decision when it comes to conducting an inspection and filling out a tenant move in checklist.
One option is to make two copies of the document and do the inspections separately. If you go this route, make sure everything you've noted in your checklist can be verified with dated and time-stamped photographs or video.
Have your tenant do their inspection as well, review together, and agree on the overall condition of items checked off or noted that need work.
Another option is to do the inspection together. Each of you should still have a copy of the document with signatures. Often, walking through the property together can be an easy option to work out what needs work before a tenant moves in and the general condition of the property.
Tenant Move In Checklist
Now, for the actual checklist! You can use the checklist provided in the post as a good starting point for creating your own tenant move in checklist.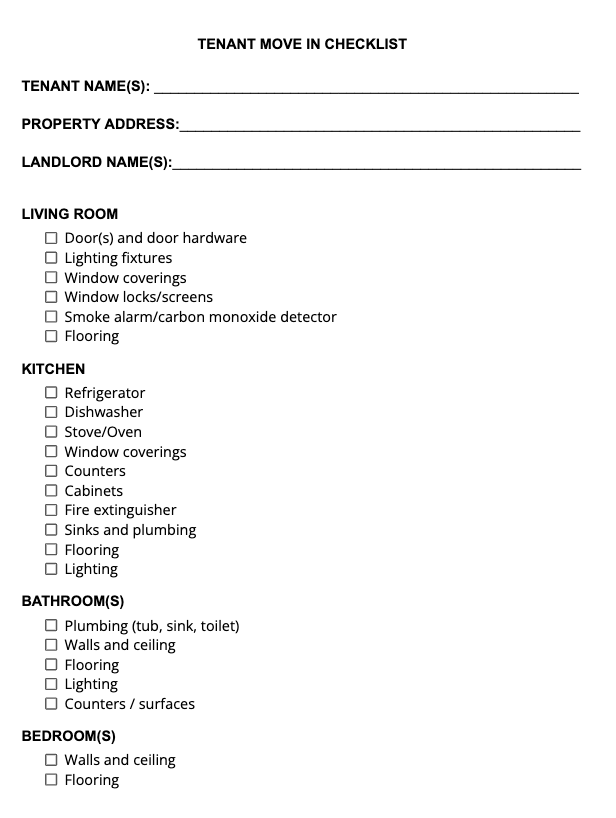 Of course, this is a general list of rental items to check out when doing a tenant move in inspection—you'll need to customize it to your own property's needs and features!
For example, if your rental comes with a backyard or garage, ensure that is listed on the tenant move in checklist. If your property had several bedrooms or bathrooms, ensure that each bathroom and bedroom are individually represented on the checklist.
How Soon Should a Tenant Return a Move in Checklist?
You and the tenant should agree upon a time and date the inspection should be completed by. A good rule of thumb is the earlier the better so the landlord or property manager has time to fix or update any issues the tenant notices.
Additionally, it might be a good idea to be upfront with the tenant about if you allow early move out inspections as well. Some landlords do not offer this, as tenants may try to hide damages or repairs with furniture while still occupying the residence. However, some landlords might allow an early move out inspection if the tenant has already removed their possessions from the premises.
Conclusion
When conducting an inspection of a rental property with a tenant move in checklist, it's important to have communication with the tenant. Setting up a time and date to conduct the inspections, handing off the document, and agreeing upon the condition of the rental are all critical aspects of the tenant move in process.
Importantly, be sure that you've stored and organized your documents in a place both you and the tenants can easily refer back to. Property management software like RentRedi can be useful in uploading, storing, and sharing documents with the tenant from a rental management platform.