When it comes to having to write a rent increase notice, it can be difficult knowing where to start. Let's face it, most tenants never want to see this type of notice but sometimes it becomes necessary to raise the rent to keep up with your mortgage payments and cost of living in the area.
So, when it comes to writing a rent increase letter, you'll want to make sure you're in compliance with any state or local landlord-tenant laws concerning raising the rent.
You'll also want to ensure you're giving the tenant sufficient notice of the rent increase so that they have time to consider whether they'd like to renew their lease or move out. While this will vary from state to state, generally you will need to let the tenant know of a rent increase 30-60 days in advance of their lease ending.
What are the reasons for rent increase?
While the exact cause for raising rent might vary from landlord to landlord, there are a few main reasons that landlords need to raise the rent:
Increase in property taxes
High mortgage rates
Increased cost of living
Rent increase is built into lease
To ensure they can cover the cost of property maintenance
Is there a limit to how much a landlord can increase rent?
Unless the property is rent-controlled, there is no limit to how much a landlord can increase the rent. However, legally, there are rules that govern how and when landlords can raise the rent. (For example, they must provide 30 days notice of a rent increase and cannot raise the rent as retaliation against a tenant.)
Typically, rent increases are 1-3% year-over-year to keep with the market, while also not drastically raising the rent and scaring off tenants.
How to write a rent increase letter?
When it comes to writing a rent increase letter, you want to ensure that you include the following important information:
Date of the notice
Tenant name(s)
Tenant address
Old rent amount
New rent amount
Date rent increase will start
Required notice
Your name & contact information
Write a Rent Increase Notice | PRINTABLE
You can download our example of how to write a rent increase notice here.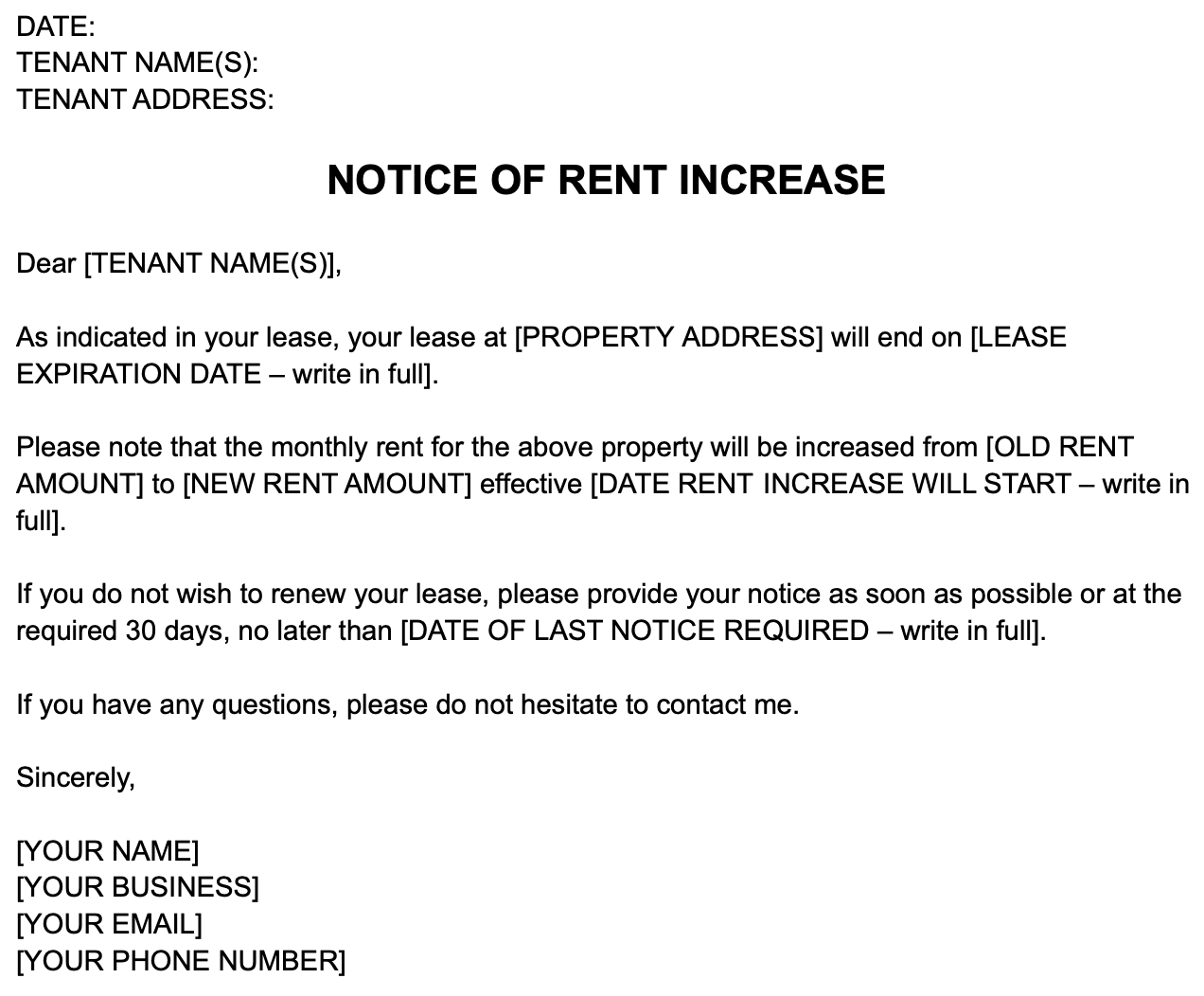 Signing a New Lease After a Rent Increase Notice to Tenants
When it comes to writing a rent increase notice, the more time in advance you let the tenants know, the easier the process will be on you and them. If they choose to not renew their lease, they have plenty of time to give you notice and you can begin the search for your new renters!
However, if the tenant chooses to accept the rent increase & renew their lease, you can get to work on putting the new lease together. If you're a RentRedi landlord, you can even upload the lease and send to your tenant for e-signature so you can get their new lease signed ASAP!
Note: This content is not intended to substitute, replace, or be construed as professional legal advice. It is for referential purposes only and not meant to replace the advice of your legal counsel, legal representation, and or lawyer. Please consult your professional legal representation or lawyer to be sure your lease is compliant with any state and/or federal laws.