Pet Policy or No-Pets Policy: Should I Allow Pets in My Rentals?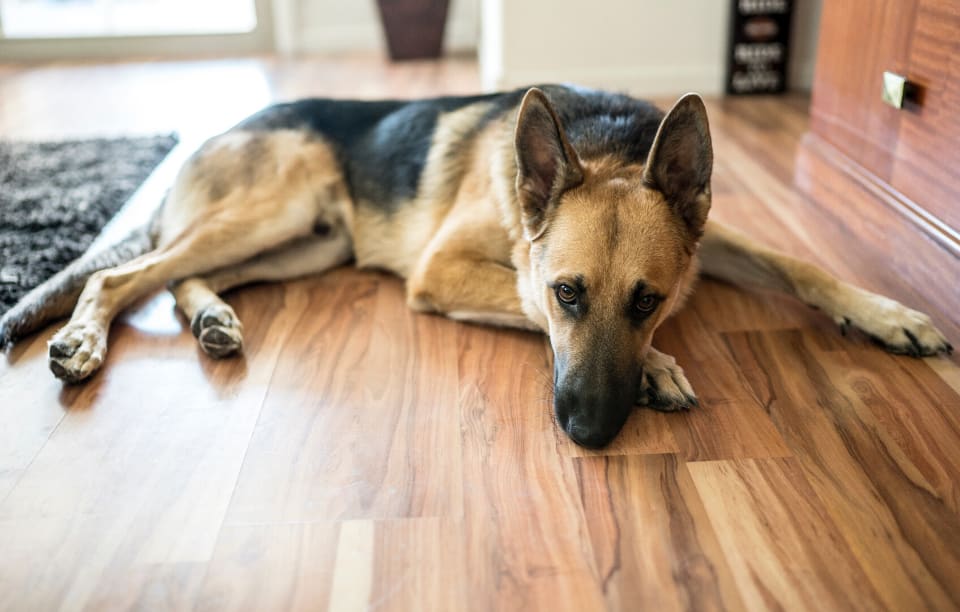 Sometimes it feels like the greatest debate amongst landlords is whether or not to allow pets in rentals. There are two camps typically divided between:
Those who want to protect their property from pet-related wear and tear and liability issues, and
Those who think that allowing pets is critical to attracting a growing renter population that has or wants pets, thus reducing vacancy time.
Whether you allow pets in your rentals or not is a personal choice, and you must carefully weigh the pros and the cons. If you're on the fence about pets, there are three key factors that will help you make an informed decision when developing a pet policy.
What type of flooring do I have?
Importantly, when considering whether or not you will allow pets in your rentals, know what type of flooring you have. The floor will arguably bear the brunt of both two- and four-legged creatures living in the unit, so it needs to be able to withstand claws, paws, and—ahem—solids and liquids. The best flooring types if you're allowing pets in rentals are:
These flooring types are more resistant to scratching and staining (versus hardwood and carpet), are easier to keep clean, and pretty durable.
What should I put in my lease?
If you're considering allowing pets in rentals, it's essential that you account for that in your lease.
Have a pet limit per unit.
Have a list of acceptable types of pets allowed in-unit. Make sure your tenants don't try to bring a cow into your one-bedroom apartment. Or, for that matter, "teacup" pigs. Teacup pigs—and I can't stress this enough—never, ever, EVER stay the size of a teacup.
Include a size/pound restriction. Just because it seems like someone was raised in a barn, doesn't mean they need to bring barnyard animals—or dogs the size of a barnyard animal—into your unit.
Require pet information: proof of registration and vaccination, spayed/neutered, vet info, and emergency contact info for pets.
Outline tenant responsibilities. For example, they must keep their pet(s) restrained (on a leash, in a carrier) at all times in public spaces, they must keep their pet in proper conditions and clean any messes made in or outside the unit on your property, the pet must not disturb the general peace of the property, cause damage to property, etc. Be sure to clearly state that tenants are personally responsible and liable for any damages or injuries caused by their pets.
Outline consequences for lease violations: What will happen to the tenant if they do not comply with the lease (i.e., you have to right to serve notice).
Note any additional fees: To offset the costs of pet wear-and-tear, some landlords ask for an additional pet deposit or require a fee for the unit to be restored to "pre-pet" condition.
Importantly, have a consistent pet policy. If you're going to allow pets for one tenant, you might as well draft up a pet policy for all tenants. If you make an exception for one renter, other tenants might grow resentful and simply acquire a pet without informing you about it. Protect yourself, your property, and your business by creating a thorough and well-documented pet policy that ensures you're informed and covered legally and financially where tenants and their pets are concerned.
How does a pet policy affect my tenants having an assistance animal?
Assistance animals are exempt from no-pet policies and pet deposits. So, if you decide to opt for a no-pets policy, you might find yourself unsure of what to do if a tenant requests to have an assistance animal. Assistance animals are considered "reasonable accommodations" by the Fair Housing Act. So you need to comply with the U.S. Department of Housing and Urban Development (HUD) regulations1. However, there are a few steps you can take to ensure the tenant has an authentic, registered assistance animal and is not simply skirting a no-pets policy:
Have them provide the proper documentation from a medical professional. But be careful of what or how you ask. According to the HUD, "A person seeking the accommodation must submit reliable documentation of the disability and disability-related need for the assistance animal if the disability is not known or readily apparent. This documentation is usually a letter from a medical doctor or treating therapist who can establish the disability and need for the assistance animal. The housing provider may not ask for access to medical records or unreasonably delay the request."2
Ensure they update the documentation yearly (which is a requirement for service animals).
A pet screening service3 might help parse out and reject fake support animal certificates, which can now be bought online.
While you cannot charge a separate pet deposit, the tenant is still responsible for any damages caused by their service animal.
When you decide on a pet policy, tenant prequalification will let you know upfront if a tenant has a pet or service animal. Creating a pet policy is no easy feat, and each landlord will have to weigh all the factors (unit flooring, lease clauses, and assistance animals accommodations) to make an informed decision. Ultimately, property owners have to decide between the cons of allowing pets in rentals (cleaning, messes, noises, liabilities) or the pros of allowing pets in rentals (reducing vacancy time and tenant turnover) by attracting renters who are more willing to apply and stay at a property that accommodates their pets.