Can I use RentRedi to manage my salon booth rental?
Yes, you can use RentRedi to manage your salon booth rental business! There are a lot of aspects of running any type of rental business—including renting a chair for hairdressers, for example—that can be managed using RentRedi.
Here are creative & fun ways you can use RentRedi to manage your salon booth rental business!
Collect rent for hairdressing chair
If you're a salon business owner and you rent out hairdressing chairs at your business, you'll need an efficient and easy way for hairstylists to pay their "chair" rent. RentRedi is a great way to have your hair chair tenants submit their rent payments.
When you sign up for RentRedi, you can set your Salon as the "Property" and your chairs (or booths) as the "Units". The easiest way to do this is to assign each chair a number or letter.
After you set up your chairs, you can invite your tenants (hairstylists who are renting a chair from you). Then, you can connect them to their "Chair Unit", and set up their rent.
Marketing an empty chair
Have an empty salon booth or hairdressing chair you'd like to get rented? RentRedi's tools can help you with that as well. We offer a professional marketing page with a shareable link—so you can send the link to any social media site, text, email, or website.
If you screen your clients first, RentRedi offers prequalifications, applications, and full background check for renters from TransUnion.
Send & sign leasing for salon booth rentals
Additionally, if you have lease contract terms for renting a chair, you can also use RentRedi's electronic lease signing feature to send, sign, and share lease agreements with your tenants.
With RentRedi's lease signing, you can upload pdf files, select which stylists to send it to, and send it right to their tenant app.
From there, the hairstylists can one-click electronically sign their lease contract, take a photo with a government-verified ID, and submit the lease back to you! You can verify the tenant's identity and sign the lease from RentRedi!
If you have already signed a lease, or want to share any other documentation, you can upload PDFs to store and/or share directly with your hairstylists via RentRedi.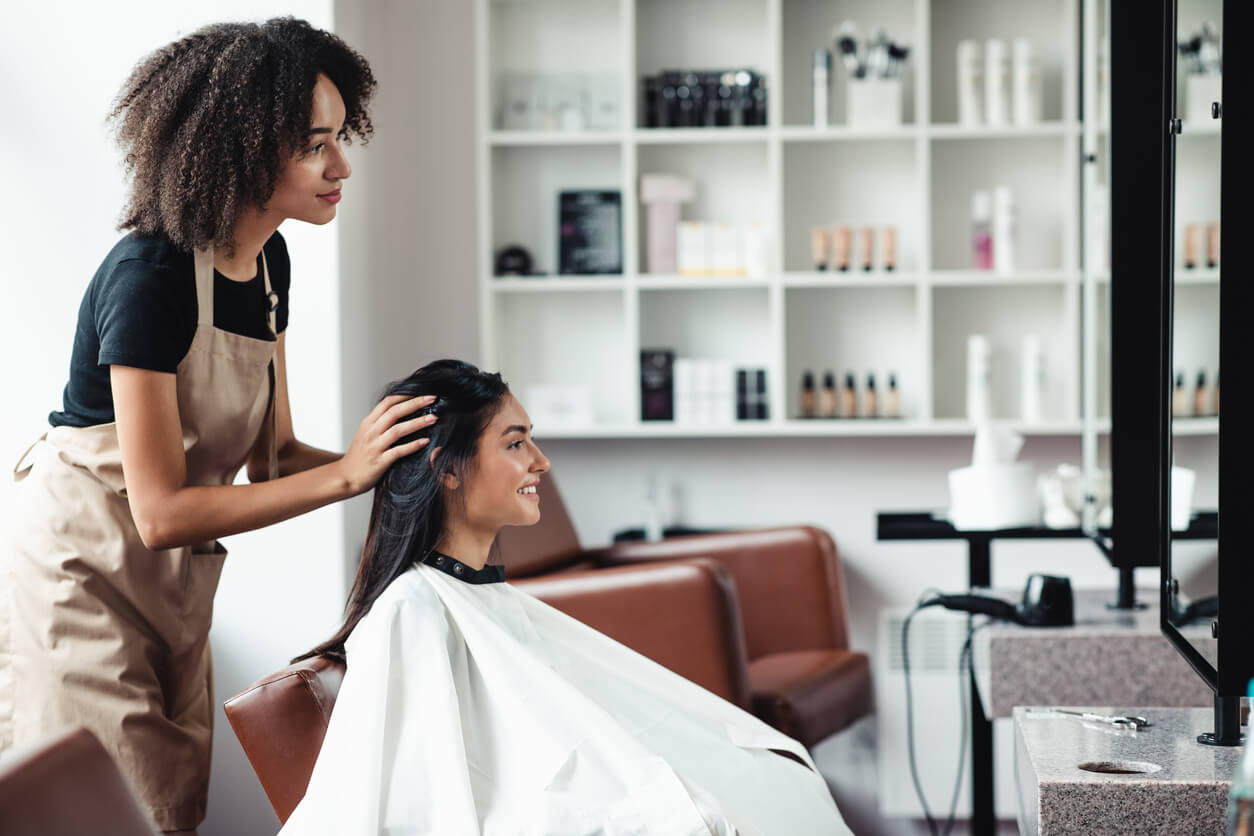 Organize & manage salon work
You can also optimize your project management with our Google calendar sync and task list. This can help you get your salon booth rental business organized!
This means if you have a shared salon Google calendar, you'll be able to see everyone's schedule at-a-glance and even create to-do items for yourself.
Additionally, if you have maintenance or cleaning personnel, you can add them as free maintenance & team members, so they can see what needs work needs to be done.
Send messages to your renters
RentRedi's push notifications can also be super useful for salon business owners!
Going to be closed for the holidays? Simply send all your hairdressers a push notification from RentRedi! You can customize the message by tenant or unit (i.e., chair), which is useful if multiple hairstylists share a chair.
Managing a salon booth rental with RentRedi
Even if you're not managing a rental property in the traditional sense, there are a lot of similarities between a rental home and renting a chair at a hair salon!
You can use RentRedi's online rent collection, marketing & leasing tools, and project management tools to manage your salon booth rental business with RentRedi. We make it pretty easy to run everything from your dashboard, and these customers really enjoy using RentRedi to manage their rentals!
Additionally, if you're looking for an added incentive for your stylists to pay their salon chair rent with RentRedi, tenants can even boost their credit using RentRedi's credit reporting feature.
This means when they pay rent using rentRedi, they have the option to report their on-time rent payments to TransUnion to improve their credit score!